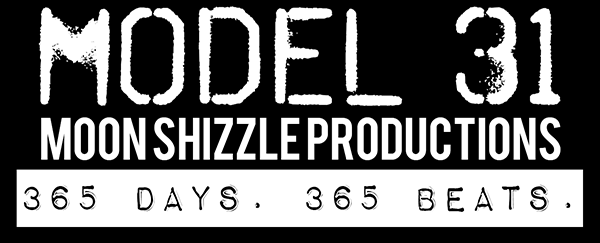 One Beat a Day, for ONE YEAR.
The Model 31 Project
started on September 7, 2013. The goal is to create one beat a day, for one year. There is also a subgoal of one song a month for one year as well. Both of these goals are minimums, and there is hope that they can also be surpassed rather than just met.
Every Saturday, MsP will release a mix of all seven of that week's beats for preview. Feedback is encouraged, and I invite you to let me know what you think! Hit me up on Twitter (
@moon_shyne
) or on Facebook (
MooN ShynE
). You can also follow the Twitter account or Like the Facebook page so you will get continuous updates daily.
If you are interested in any of the beats, you can reach me through the same channels and we'll chop it up!
Week 26 (2014.03.01 - 2014.03.07)
2014.03.07 - Day 182:
Watch Your Step
2014.03.06 - Day 181:
Deal Closer
2014.03.05 - Day 180:
Half Circle
2014.03.04 - Day 179:
Thirteen Ounces
2014.03.03 - Day 178:
Wait is Over
2014.03.02 - Day 177:
Sensitivity
2014.03.01 - Day 176:
Jayhawk
Week 25 (2014.02.22 - 2014.02.28)
2014.02.28 - Day 175:
Dimly Lit
2014.02.27 - Day 174:
The Switch
2014.02.26 - Day 173:
Zone D
2014.02.25 - Day 172:
Pillow Talk
2014.02.24 - Day 171:
Induced Sleep
2014.02.23 - Day 170:
Home Stretch
2014.02.22 - Day 169:
Call Audibles
Week 24 (2014.02.15 - 2014.02.21)
2014.02.21 - Day 168:
Slowing Roll
2014.02.20 - Day 167:
Two One Nine
2014.02.19 - Day 166:
Strategic
2014.02.18 - Day 165:
Villainous
2014.02.17 - Day 164:
Cold Blooded
2014.02.16 - Day 163:
Blessed
2014.02.15 - Day 162:
Sincerely
Week 23 (2014.02.08 - 2014.02.14)
2014.02.14 - Day 161:
Close Call
2014.02.13 - Day 160:
Pen and Pad
2014.02.12 - Day 159:
Street Novelist
2014.02.11 - Day 158:
Hard Sauce
2014.02.10 - Day 157:
Between the Eyes
2014.02.09 - Day 156:
Pipe Dream
2014.02.08 - Day 155:
Desired Result
Week 22 (2014.02.01 - 2014.02.07)
2014.02.07 - Day 154:
Unspeakable Things
2014.02.06 - Day 153:
Chip Stacker
2014.02.05 - Day 152:
Pick Up
2014.02.04 - Day 151:
Mojito
2014.02.03 - Day 150:
Buck Fifty
2014.02.02 - Day 149:
Alexander
2014.02.01 - Day 148:
Drop Step
Week 21 (2014.01.25 - 2014.01.31)
2014.01.31 - Day 147:
Wiggle Room
2014.01.30 - Day 146:
No Rush
2014.01.29 - Day 145:
Flag Raiser
2014.01.28 - Day 144:
Escalator
2014.01.27 - Day 143:
Save Face
2014.01.26 - Day 142:
No Award Necessary
2014.01.25 - Day 141:
The Long Way
Week 20 (2014.01.18 - 2014.01.24)
2014.01.24 - Day 140:
Snake Spirit
2014.01.23 - Day 139:
Loaded Toaster
2014.01.22 - Day 138:
Firing Squad
2014.01.21 - Day 137:
Raid
2014.01.20 - Day 136:
Pure Gasoline
2014.01.19 - Day 135:
Havoc Harbinger
2014.01.18 - Day 134:
Alpha Instinct
Week 19 (2014.01.11 - 2014.01.17)
2014.01.17 - Day 133:
No Choice
2014.01.16 - Day 132:
Situations
2014.01.15 - Day 131:
The Void
2014.01.14 - Day 130:
Enough
2014.01.13 - Day 129:
Shoulder Movements
2014.01.12 - Day 128:
Antidote
2014.01.11 - Day 127:
Augmented Ability
Week 18 (2014.01.04 - 2014.01.10)
2014.01.10 - Day 126:
Floor Model
2014.01.09 - Day 125:
First Lesson
2014.01.08 - Day 124:
Wild Bunch
2014.01.07 - Day 123:
Blacklisted
2014.01.06 - Day 122:
Never Spoken
2014.01.05 - Day 121:
Double Down
2014.01.04 - Day 120:
Brass Knuckles
Week 17 (2013.12.28 - 2014.01.03)
2014.01.03 - Day 119:
Zoned
2014.01.02 - Day 118:
Two Fifty One
2014.01.01 - Day 117:
Come With
2013.12.31 - Day 116:
Steel Toe
2013.12.30 - Day 115:
Pen Ultimatum
2013.12.29 - Day 114:
Graphed
2013.12.28 - Day 113:
Sleight of Hand
Week 16 (2013.12.21 - 2013.12.27)
2013.12.27 - Day 112:
Glass Jaw
2013.12.26 - Day 111:
Singles
2013.12.25 - Day 110:
Rubber Balls
2013.12.24 - Day 109:
All Hail
2013.12.23 - Day 108:
Cornerstone
2013.12.22 - Day 107:
Internal Rhythm
2013.12.21 - Day 106:
Fork in the Road
Week 15 (2013.12.14 - 2013.12.20)
2013.12.20 - Day 105:
It Will Pass
2013.12.19 - Day 104:
Split Open
2013.12.18 - Day 103:
Beneath Me
2013.12.17 - Day 102:
Roofies
2013.12.16 - Day 101:
Teflon
2013.12.15 - Day 100:
Full Moon
2013.12.14 - Day 99:
Not a Problem
Week 14 (2013.12.07 - 2013.12.13)
2013.12.13 - Day 98:
Insomnia
2013.12.12 - Day 97:
Apprehension
2013.12.11 - Day 96:
Speaker Beater
2013.12.10 - Day 95:
Just Facts
2013.12.09 - Day 94:
Identity Crisis
2013.12.08 - Day 93:
Hundred Proof
2013.12.07 - Day 92:
Revolutions
Week 13 (2013.11.30 - 2013.12.06)
2013.12.06 - Day 91:
On a Dime
2013.12.05 - Day 90:
Malfeasance
2013.12.04 - Day 89:
Ice Water Veins
2013.12.03 - Day 88:
And Above
2013.12.02 - Day 87:
Bright Orange Strut
2013.12.01 - Day 86:
Masamune Massacre
2013.11.30 - Day 85:
Fly Private
Week 12 (2013.11.23 - 2013.11.29)
2013.11.29 - Day 84:
That Work
2013.11.28 - Day 83:
Mashed Potatoes
2013.11.27 - Day 82:
Unrequited
2013.11.26 - Day 81:
Business No Pleasure
2013.11.25 - Day 80:
Court Troubles
2013.11.24 - Day 79:
The Rapture
2013.11.23 - Day 78:
Downtown
Week 11 (2013.11.16 - 2013.11.22)
2013.11.22 - Day 77:
Nostalgia
2013.11.21 - Day 76:
Face Meets Elbow
2013.11.20 - Day 75:
Caddy Hop
2013.11.19 - Day 74:
Open Windows
2013.11.18 - Day 73:
Southern Comfort
2013.11.17 - Day 72:
Keyser Soze
2013.11.16 - Day 71:
Marbles Lost
Week 10 (2013.11.09 - 2013.11.15)
2013.11.15 - Day 70:
Limelight
2013.11.14 - Day 69:
Show My Stance
2013.11.13 - Day 68:
Thanos
2013.11.12 - Day 67:
Motivation
2013.11.11 - Day 66:
Reminisce
2013.11.10 - Day 65:
Style Switcher
2013.11.09 - Day 64:
Beast Mode
Week 9 (2013.11.02 - 2013.11.08)
2013.11.08 - Day 63:
Ghost Rider
2013.11.07 - Day 62:
One Night
2013.11.06 - Day 61:
Lime Green
2013.11.05 - Day 60:
Lines Drawn
2013.11.04 - Day 59:
Survival Mode
2013.11.03 - Day 58:
Jackhammer
2013.11.02 - Day 57:
Low Rider
Week 8 (2013.10.26 - 2013.11.01)
2013.11.01 - Day 56:
Backyard
2013.10.31 - Day 55:
Are You Down
2013.10.30 - Day 54:
Room Keys
2013.10.29 - Day 53:
Easy Money
2013.10.28 - Day 52:
Banana Clips
2013.10.27 - Day 51:
VIP Status
2013.10.26 - Day 50:
Open Up
Week 7 (2013.10.19 - 2013.10.25)
2013.10.25 - Day 49:
Napalm
2013.10.24 - Day 48:
The Fixer
2013.10.23 - Day 47:
Avtomat Kalashnikov
2013.10.22 - Day 46:
Red October
2013.10.21 - Day 45:
Desert Eagle
2013.10.20 - Day 44:
Zero Celsius
2013.10.19 - Day 43:
Zen Attained
Week 6 (2013.10.12 - 2013.10.18)
2013.10.18 - Day 42:
Private Room
2013.10.17 - Day 41:
Ponzi
2013.10.16 - Day 40:
Gregarious
2013.10.15 - Day 39:
Goose
2013.10.14 - Day 38:
Cornered
2013.10.13 - Day 37:
Industrial Strength
2013.10.12 - Day 36:
Venom Blade
Week 5 (2013.10.05 - 2013.10.11)
2013.10.11 - Day 35:
Solitary
2013.10.10 - Day 34:
The Stink
2013.10.09 - Day 33:
Hammer and Sickle
2013.10.08 - Day 32:
United Nations
2013.10.07 - Day 31:
Waiting for Answers
2013.10.06 - Day 30:
Pole Position
2013.10.05 - Day 29:
Surgical Strike
Week 4 (2013.09.28 - 2013.10.04)
2013.10.04 - Day 28:
Charles Xavier
2013.10.03 - Day 27:
Erik Lehnsherr
2013.10.02 - Day 26:
Warren Worthington III
2013.10.01 - Day 25:
Scott Summers
2013.09.30 - Day 24:
Jean Grey
2013.09.29 - Day 23:
Hank McCoy
2013.09.28 - Day 22:
Bobby Drake
Week 3 (2013.09.21 - 2013.09.27)
2013.09.27 - Day 21:
The Creed
2013.09.26 - Day 20:
Blood Clot
2013.09.25 - Day 19:
Dark Alley
2013.09.24 - Day 18:
Elementary Epiphany
2013.09.23 - Day 17:
All Natural
2013.09.22 - Day 16:
One Eye Open
2013.09.21 - Day 15:
Numbers
Week 2 (2013.09.14 - 2013.09.20)
2013.09.20 - Day 14:
Snake Eyes
2013.09.19 - Day 13:
The Essence
2013.09.18 - Day 12:
Forceful Removal
2013.09.17 - Day 11:
My High
2013.09.16 - Day 10:
Most Wanted
2013.09.15 - Day 9:
Dark Passenger Lament
2013.09.14 - Day 8:
Golden Gate
Week 1 (2013.09.07 - 2013.09.13)
2013.09.13 - Day 7:
Deterrence
2013.09.12 - Day 6:
Heisenberg Blue
2013.09.11 - Day 5:
Looking Back
2013.09.10 - Day 4:
Storyteller
2013.09.09 - Day 3:
In Style
2013.09.08 - Day 2:
Double Blitz
2013.09.07 - Day 1:
Simple Technique