Last night, Destiny Soprano came over to re-record her part for "The Bomb Squad."  She had previously recorded her vocals, but we both had gripes with that session. Her gripe was her performance, as she felt she could have done better. My gripe was that I felt I could've recorded her voice better.
My main issue with the recording was the fact that I forgot to change the preset on the Samson CCom16 Compressor from Aggressive Vocal to Smooth Vocal or just to bypass.  This caused her vocals to sound like they hit a wall, and I didn't get the fullness of Destiny's vocals.  That was my first conclusion, but by the end of the second session, I found out that wasn't my only issue.
We met up this past Thursday to try to re-record.  Unfortunately, this time, Destiny had done her share of raising her voice a couple of times for various reasons throughout the day.  The result was Destiny's throat hindering her performance.
Her part on this song (at least for the first half) was singing the first four bars of the chorus to "Alone" by Heart.  Anyone who knows this song and has tried to sing it knows that following Ann Wilson's vocals is not an easy task.  Ann Wilson has a very strong voice with that definitive presence and the ability to reach very high notes.
Destiny's presence in general when singing has a slight similarity in terms of strength that Ann Wilson does.  The notes on this half of the verse are relatively high, and after making quite a few attempts, we settled on a few takes, and moved on to the second half.  I wrote the second half, and it was slightly lower in range than the first half.  Problem is, however, after going at the first half really hard, she found it difficult to adjust to singing lower because she had already strained herself trying to do the first half.
To salvage the session, I ended up having to comp the vocals, using a combination of the first session and the second.
For those who don't know what comping is, comping is taking parts of different takes of the same verse, and putting the best pieces from all the takes together in sequence so that it sounds like what would be the best possible take.
To do so, you just have to cut and paste the snips you need from the different takes together in your multi-track mixer on your DAW (Digital Audio Workstation [if you do your audio on a computer, that is considered a DAW]).  You have to listen to each take carefully, jot down which parts you consider the best, then do the actual comping.
Figure 2010-01-24/1: Comping vocals, notably track 2 and 3.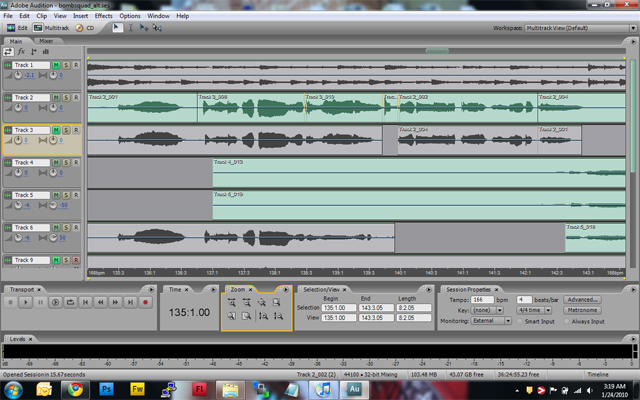 As you can see, what's on track 2 and 3 are similar, except that track 2 has little snippets from different takes put together, and track 3 has a single instance recorded take.  Note also on track 2 that each snippet crossfades into adjacent snippets  slightly overlapped so that the transition between snippets are smooth.
Considering Destiny's throat, this was the best option considering also that we were trying to meet the deadline for the 1/23 and a supplementary recording session would not be possible before deadline.  Also, because the takes from both sessions had very solid performances in various parts of different takes in different snips (the second session had 209 takes, each take having it's solid points), it was very possible for me to find very good recordings of every phrase in different parts (it's best to cut and paste by phrase, and not by words or syllables, because cutting in between phrases can sound choppy), and after comping, the combination would sound like a single instance solid take.
Aside from this though, there is still the issue of the recorded quality of Destiny's vocals, as the second take also felt like some nuances of her voice were not being recorded accurately on the mic.  I concluded that it might be a good idea now to upgrade my mic to one that may be able to more accurately record Destiny's voice and improve the recorded quality of others as well.
So right now, I'm eye-ing the Audio-Technica 2035, which is an upgrade from my Audio Technica 2020.  The Rode NT-1A is also on my short list, as well as one or two others.  I'm looking for the best mic under $200, and those two have been recommended to me.
Let the mic search commence!
Also, "Phase 3 – L.Y.R.I.C.A.L. Without Fear" was submitted today through TuneCore.  Looks like March 1, 2010 is the day we will publicly announce that it's available on online through iTunes.  After five long years, it's finally done! =D
And yes, there will be a Phase 4.  Tentative Title:
Phase 4 – Response.Redirect
As always, stay tuned for more!
-mnshyn
EDIT 8/23/2010: Phase 4 has a new name: SymboLYRICism.  Peep here for details.